p>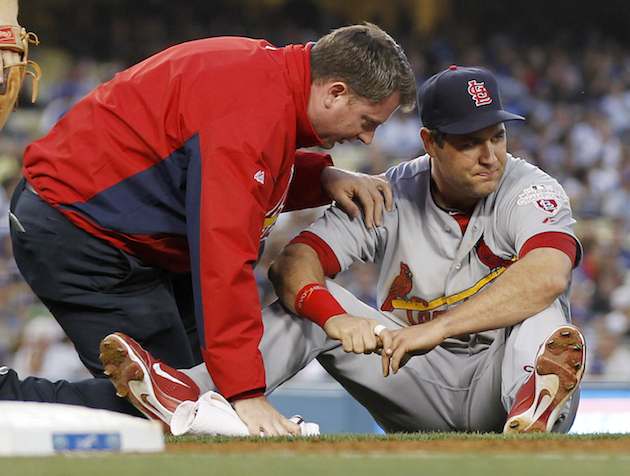 Lance Berkman had just returned from the disabled list a week ago after missing 20 games with a calf injury. He's now back on it and might be done for the rest of the year – and possible his career. Berkman injured his right knee while reaching for a throw at first base in Saturday's loss to the Dodgers, and although it won't be confirmed until an MRI is performed today, rumor is that he may have torn his ACL. With Berkman out, Allen Craig (hamstring) and Jon Jay
(shoulder) all missing from the Cardinals lineup, the Cardinals are scrambling just a bit. The good news is they play in the NL East and will have no problem winning the division even with a tough stretch. Replacing Berkman on the roster will be Matt Adams, who is one of the better first base prospects in the game. Adams batted .300 with 32 homers last season and he's picked up right where he left off this year, hitting .340 with 9 homers at Triple-A Memphis. Adams, who went 2-for-4 at the plate in his debut Sunday, should be owned in all fantasy leagues.
In other fantasy news…..
Vernon Wells (thumb) is expected to land on the DL. It likely means more playing time for Peter Bourjos.
Max Scherzer had a season-high 15 strikeouts on Sunday against the Pirates. Scherzer is up and down, but this could be a good time to buy low.
Jonathan Lucroy went 3-for-5 with a pair of home runs and seven RBI in Sunday's 16-4 win over the Twins. Lucroy was probably a second catcher pick for most fantasy owners, but instead Lucroy has become a Top 5 fantasy catcher.
Stephen Strasburg left Sunday's outing with tightness in his right biceps. The situation has been downplayed, and it sounds like he'll make his next scheduled start. But, I am really nervous about Strasburg and starting to wonder if he is the next Mark Prior. The Nationals are doing so much to limit Strasburg's work load and he still gets bumps and bruises.
Dee Gordon will receive a few days off to regroup as he is in the middle of a 2-for-31 slump at the plate.
Aroldis Chapman has been named the Red's new closer. Chapman had no trouble nailing down his first save chance Sunday, retiring the Yankees in order with one strikeout. Chapman has not given up an earned run this season, and even though there are some fantasy owners that want to see Chapman in the Reds rotation, at least as the Reds closer his value just increased.